Loving and training a dog is all about being in RHYTHM with them,
Welcome to Rhythm N Blues Weimaraners.
Style * Grace * Structure * Quality * Versatility * Obedience * Strength * Health* Hunt
RnB enjoys training and competing in
American Kennel Club (AKC)
Agility, Obedience, Hunt test, Tracking, Rally, Lure Coursing Ability, Scent work
North American Versatile Hunting Dog Assoc. (NAVHDA)
Natural Ability
International All Breed Canine Assoc. (IABCA)
International & National Champion (Conformation)
Barn Hunt Association (BHA)
All levels and C8
United States Dog Agility Assoc. (USDAA)
Agility
Weimaraner Club of America (WCA)
Agility , Obedience , Tracking
United kennel club (UKC)
Conformation and Nose work
North American Dock Diving (NADD)
All Levels Novice- Junior
Qualified for Regionals 2020!!
Also Members of the following clubs:
BWCA: Blue Weimaraner Club of America
OVDTC: Ouachita Valley Dog Training Club (board member, and instructor)
DKC: Darbonne Kennel Club
NAVHDA: North American Versatile Hunting Dog Association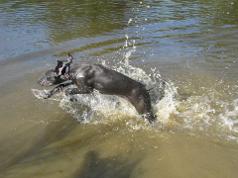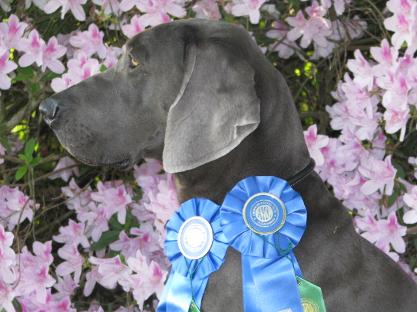 Our weims can bring you ribbons, birds, and endless love.
Weimaraners come in various shades- Silver, Gray & Blue. They also come in short and long hair variety. Common misconception is that Blues and long hairs are rare or hard to find. The truth is Quality is hard to find.
Even if we don't have a litter at the time you wish, we will happily help guide you to a QUALITY breeder that is approved by WCA (Weim club of America) or BWCA (Blue Weim Club of America).
.
Weimaraners are NOT right for every home. Not only is it critical for you to search for a Quality breeder, it is MORE important for you research this breeds characteristics and needs before purchasing. Example: Very hyper hunting dog not meant for apartment living.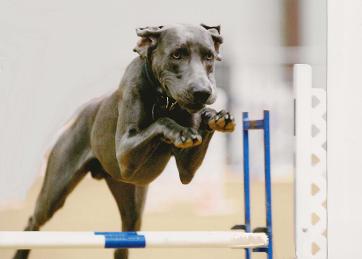 KEEP UPDATED ON OUR BLUE JOURNEY BY FOLLOWING US ON FACEBOOK
www.facebook.com/Rhythmnbluesweims