A healthy dog is not just feeding, water and yearly shots. Your dog will give you his whole heart and life to you. Its your duty to provide the best for his/her's entire life!
To better ensure the health of the dog, there are certified tests that are easily done with your vet.
Hips, Elbows, Eye, Heart, Thyroid are the main tests for weimaraners. If a dog has been tested, they are given a certificate of proof. Feel free to ask for that proof when looking at buying a puppy. Those tests should be done to any dog that will be bred. This increases the chance of not having health troubles such as Hip dsyplasia.
There are breeders who will promise healthy pups. Give your puppy a better chance of a happy life, buy a puppy from tested parents. If not, then its like driving a car in the night without headlights. The road should be straight, but you can not see the curve up ahead.
Following are the website for the tests:
Lies and Gimics .....
RARE BLUE or Longhair weims. The truth is its harder to find a proven quality Blue or longhair weim. There are plenty of people who breed blues and long hairs. Look for proof of quality. There are lots of "car salesmen" in the puppy world.
Breeder brag about their dog's skills. Ask to see proof in a video or in person. Better yet, ask to see the AKC title proving that skill.
AKC registered always equals Quality.
(( Not true.))
AKC registered just means that dog came from two pure parents. Quality should be proven through health tests and AKC physical skilled tests.
All dog food is the same? Absolutely not true. Research and read the labels. Weims are sensitive dogs when it comes to their stomach. A diet without corn, by products, chemicals is best. Good brands such as Blue Buffalo, Innova, eagle pack, taste of the wild, are some of the higher quality. RAW diet is best but you must have time to devote to it.
Crates should not be treated as punishment. Crates are a wonderful training skill every dog should have. Traveling with a dog in a plastic crate is the safest way to travel with Fido. Crate training is handy for emergencies at vets or boarding a dog while your on vaccation. Dogs when properly crate trained, will see their crate as their own personal space or den. Crates are wonderful for safely containing a dog while you have company over. Weimaraners are famous for being Counter Surfers. That means they will find everything left on any surface in a house. Leaving a dog loose in your home while your away can lead to disaster.
Above is the link to verify all of Cmt Working Man Blues health tests.
AKC titles earned:JH, CD, RAE, AX, AXJ, OAJP, OF, CGC
DOB: 1/20/2006
AKC# SR32213811
OFA Hip: GOOD,
Elbow, Normal
Heart: Normal
Thyroid: Normal
DNA: V624012
Below tests were tested through DNA swabs at UC DAVIS
Hypomyelination (shaking puppy syndrome)-
Negative carrier!
Hyperuricosuria (Urate Stones)- Negative carrier!!

He has tested Negative for Brucellois at the time of semen collection was frozen. His semen is stored through International Canine Semen Bank (branch in Atlanta, GA)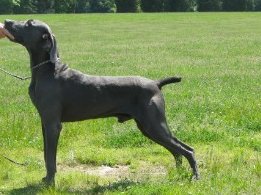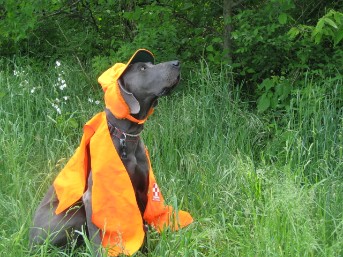 COVEY's Health page
Int. Ch, Bluerivers First On Point, JH, RN, RATI, RATO, NAVHDA NAp3
DOB : 4 /28 /2012
AKC , BWCOA , UKC, NAVHDA registered
OFA tests
Hips- Good
Elbows- Normal
Thyroid-Normal
Heart-Normal
Below tests were tested through DNA swabs at UC DAVIS
Hypomyelination (shaking puppy syndrome)- Negative carrier!
Hyperuricosuria (Urate Stones)- Negative carrier!!