Int Ch Bluerivers First On Point, RATN, RATI, NAVHDA NA prize3, JH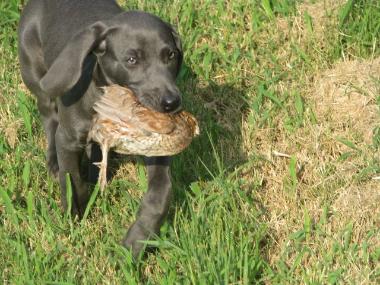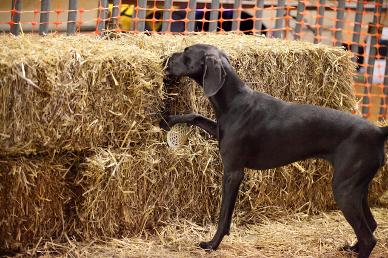 Covey is two wins away from her barn hunt SENIOR title in Barn Hunt!
2015 will be our year to achieve our goals in Agility!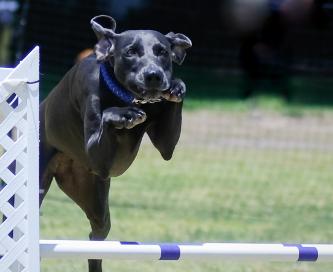 23.5 inches tall . 56pounds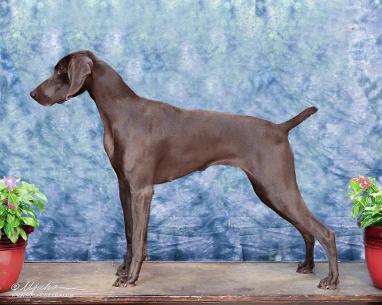 INTERNATIONAL CHAMPION and is ONE win away from UKC Champion!!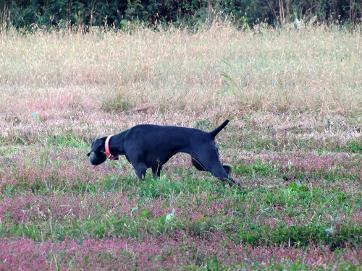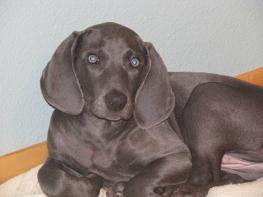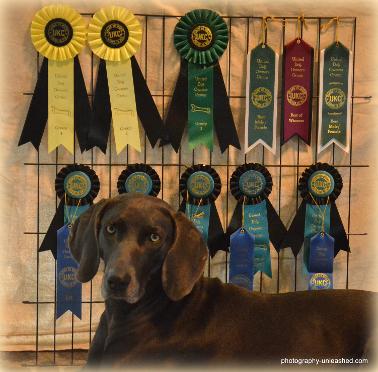 Link below to view Covey's Pedigree!
SHE HAS STYLE, GRACE, CONFORMATION
DRIVE
ATHLETISM
BlueRivers First On Point "Covey" is the newest in the family. Born 4-26-12 She is my first blue female. I am very blessed to have been chosen by my breeder Renee @ Blue River Weimaraners to get first pick blue female. It was early on in the litter we could all see the style, grace, disposition and natural hunt instinct in this pup.
I packed my bags in June 2012 and drove from north Louisiana to north California. That trip was full of lasting memories.
Covey is still very young and has accomplished a lot so far.
May 2013 she earned her first title. NAVHDA NA PRIZE 3 in Huntsville, MO. We had to use a bird for her second swim in the water test, therefore making her go from Prize I down to a Prize III. I'm absolutely proud of our accomplishment!
Sept 2013 earned International Championship in IABCA in Fort Worth, TX
--- Blues are not allowed in the conformation ring anymore for AKC and UKC. This rule is decided by the Weim club of America. IABCA allows all breeds and colors to show conformation.
Sept 2013 earns first win in AKC Lure Coursing Ability. Two more wins are needed for the "CAT" title.
Oct 2013 AKC HUNT TEST in Tennessee. She earned two wins/legs toward her Junior Hunt Title ( JH )
Oct 2013 earned her BARN HUNT ASSOCIATION titles in Instinct and Novice levels. ( RATI & RATN ) With one of her Novice wins, she also earned 3rd place.
Nov 2013 AKC RALLY. Covey earned her first win with a score of 82 out of 100. The next day she earned a 90.
Dec 2013 AKC Hunt test. Covey earned her last two wins needed for our JH title. We enjoyed our hunts in Alvord, Texas. Driving through ice , snow, rain to get to this test. It was worth it all. The test was held at the LBJ grassland. Check out our photos to see our pretty ribbons we won.
Feb 2014 AKC RALLY. Covey earned her last win in novice for her title! RN
Feb 2014 UKC Conformation Covey got Best in Breed
April 2014 BHA Barn Hunt,. Covey earned one leg in barn hunt Open and HIGH IN CLASS in Addison Texas.
May 2014 BHA Barn hunt. Earned two wins and High in Class! RATO Title in Downsville, LA
June 2014 AKC Covey competed in her first Weimaraner Nationals Agility! California!!!
July 2014 UKC Covey earned Best in Breed and 2nd in Gun dog
Aug 2014 BHA Earned her first Senior leg in barn hunting and High In Class West Monroe, LA
Aug 2014 AKC RALLY Covey earned her first Advanced Rally Leg.
Sept 2014 Covey had the HONOR to be the FIRST WEIMARANER EVER to compete at a BARN HUNT NATIONALS It was our first trip
to Purina farms, Gray Summit , MO)
Nov 2014 We attempted to earn our last legs in lure coursing but Covey just isn't that interested in chasing a Plastic bag on a rope.
Maybe we'll revisit lure coursing later on.
Dec Plans------ agility, barn hunting, ukc conformation
Follow us on our journey.